About SIC Carts
SIC Carts is a family owned and operated business.  After years of lugging chairs, canopies, umbrellas, coolers, playpens and toys to the beach, we recognized a need for a vehicle to take the pain out of getting families to the beach.
Our original cart design and prototype, built in 2014, was constructed of bulky and heavy Schedule 40 plumbing pipe.  The cart gained plenty of attention as we easily transported beach gear for more than 10 people over the dune, across the sand to a spot on the beach; all in one trip.  The word quickly spread and, after building a few carts for other beach goers, we completely reworked, refined, and perfected the patent pending designs.
We now offer two sizes to fit everyone's needs and, unlike conventional PVC pipe that degrades when exposed to UV radiation, use premium high strength, lightweight, UV resistant materials that will last for many years to come and are available in various colors.  Our larger all terrain carts have an ergonomic design that allows just about anyone to easily steer and push the cart to their destination.  The smaller cart's front wheels pivot for easy maneuverability.
Our commitment to perfection will enhance your beach going experience as you transport all your equipment to the beach with little effort and in one trip.  We also offer an all terrain chair for people who would otherwise have difficulty getting to the beach.
Our large all terrain carts will easily carry the following items:
Full sized canopy tent;
8-10 beach chairs;
Coolers;
Umbrellas;
Body boards;
Games, toys; and
Just about anything you would bring to the beach.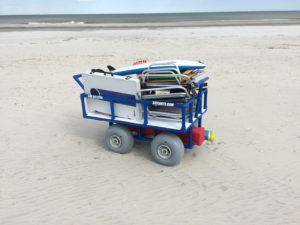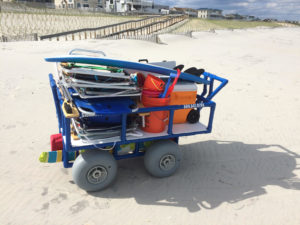 Our small all terrain carts carry the following:
4 beach chairs;
Cooler;
Umbrella;
Beach bags; and
Games and toys.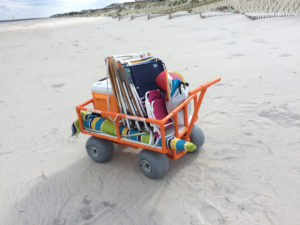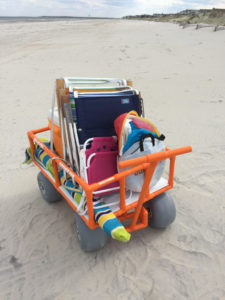 SIC Carts looks forward to making your trip to the beach an easy and more pleasurable experience.
Call or email us at 609-647-0794, info@siccarts.com to reserve your cart today, or use the provided contact link.  You can also stop in our store at 111 63rd Street, Unit 104   (part of the "Uptown Shops in Sea Isle City").
We will deliver our carts directly to you whether you are renting for vacation, or purchasing for your shore home (assorted colors available).  We proudly service all New Jersey shore points from Margate to Cape May and beyond.